It's a big week in the Strongman world as the preliminary events for the Worlds Strongest Man get underway in Los Angeles. The pre-game talk has been slightly interesting to read. The usual trash talk on strength boards all over the internet; predictions on overall winner; basic silliness by people who sit in their basement and hit the bench every couple of days.
Everyone has their favorite picked out and I expect to read a lot of Monday morning quarterback reports during the two week competition. Oh well, that's what makes the world go 'round I guess. I have a few favorites too, but I'll keep those to myself. For now.
The WSM organization attempts to keep results close to the vest to (I believe) bolster television ratings when the competition is aired later this year. The trouble with this, obviously, is that we live in the land of the interwebz. Which means if you're waiting to hear how the athletes are doing, you try friend as many people on facebook who are in L.A. taking pictures and posting updates. Heh.
The groupings and events are posted here. The athletes and their families are not allowed to post results of any sort but some pretty fun pictures have come out of their pre-game fun.
Bigg's pal, Akos Nagy, seems to be taking it all in…
Brian Shaw is quick to lay to rest any questions on whether he's ready to compete again after his biceps tear at The Arnold last spring…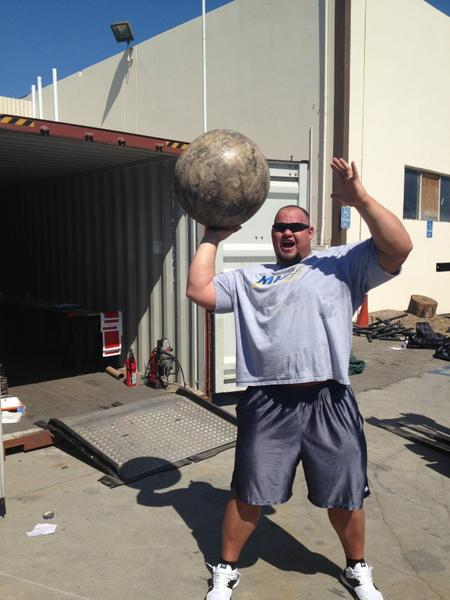 Here's wishing all the competitors a meet that displays their hard work and preparation. One where they all walk away intact and as healthy as possible. And a week or two of soaking in the awesome that surrounds them.